Review articles
'Hierarchy' in the organization of brain networks
Claus C. Hilgetag and Alexandros Goulas (Institute of Computational Neuroscience, University Medical Center Eppendorf, Hamburg University, Hamburg, Germany)
Published:24 February 2020 https://doi.org/10.1098/rstb.2019.0319
Philosophical Transactions of the Royal Society B: Biological Sciences
*The Philosophical Transactions of the Royal Societyはイギリス王立協会の発行する学術論文誌である。『哲学紀要』と訳されることもある。1665年3月6日に創刊され、英語圏では最古のジャーナルである。(Wikipediaを参考)
Abstract
Concepts shape the interpretation of facts. One of the most popular concepts in systems neuroscience is that of 'hierarchy'. However, this concept has been interpreted in many different ways, which are not well aligned. This observation suggests that the concept is ill defined. Using the example of the organization of the primate visual cortical system, we explore several contexts in which 'hierarchy' is currently used in the description of brain networks. We distinguish at least four different uses, specifically, 'hierarchy' as a topological sequence of projections, as a gradient of features, as a progression of scales, or as a sorting of laminar projection patterns. We discuss the interpretation and functional implications of the different notions of 'hierarchy' in these contexts and suggest that more specific terms than 'hierarchy' should be used for a deeper understanding of the different dimensions of the organization of brain networks.
This article is part of the theme issue 'Unifying the essential concepts of biological networks: biological insights and philosophical foundations'.
概念は事実の解釈を形作る。システム神経科学で最もポピュラーな概念の一つに「階層」という概念がある。この概念は様々な方法で解釈されてきたが、それらは十分には一致していない。この観察は、この概念が定義されていないことを示唆している。霊長類の視覚皮質システムの構成を例に、現在、脳ネットワークの記述に「階層」がどのような文脈で使われているのかを探る。本研究では、少なくとも4つの異なる用途を区別する。具体的には、「階層」を①投射パターンのトポロジカルなシーケンスとして、②特性のグラディエントとして、③スケールの進行として、④層ごとの投射パターンのソートである。本研究では、これらの文脈における「階層」の異なる概念の解釈と機能的意味合いについて議論し、脳ネットワークの構成の異なる次元の理解を深めるためには、「階層」よりもより具体的な用語を使用すべきであることをsuggestする。
本論文は、テーマ「Unifying the essential concepts of biological networks: biological insights and philosophical foundations」の一部である。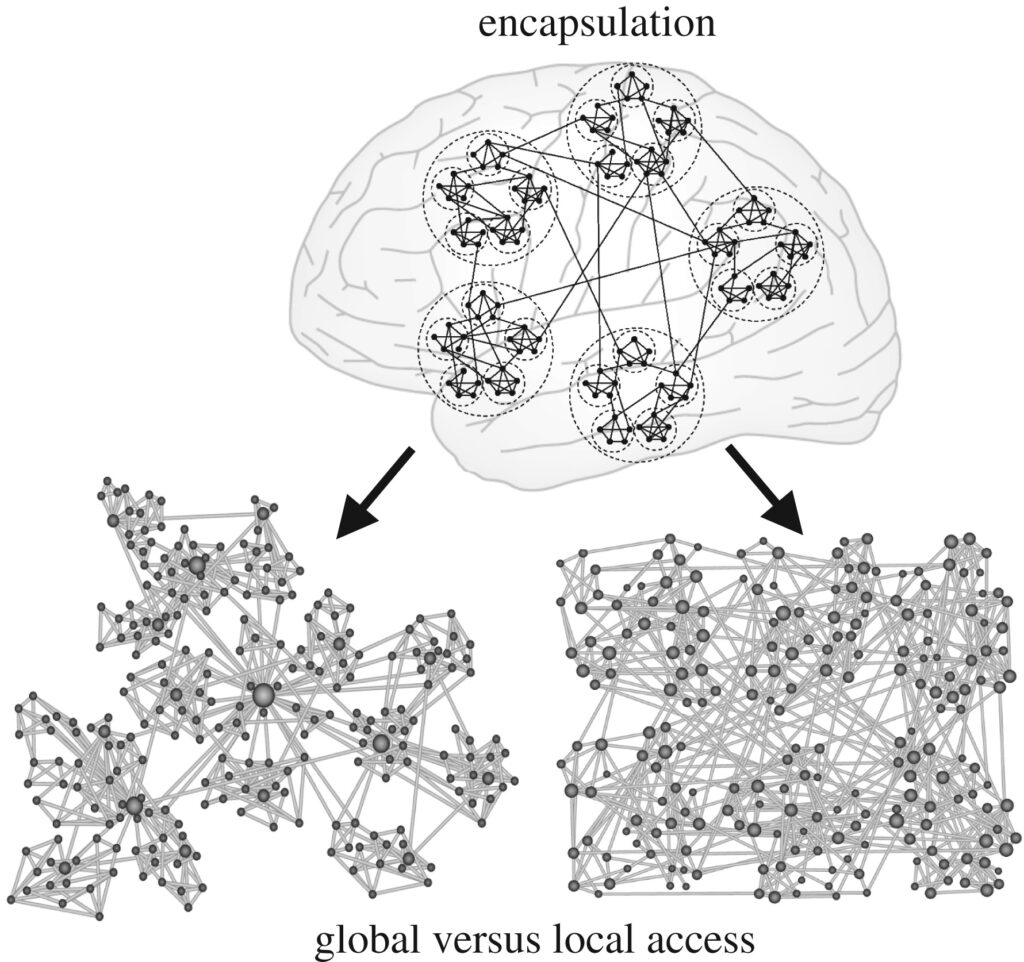 Figure 6. Schematic of hierarchical multi-level modular network organization. This nested module-within-module architecture can comprise diverse types of networks, for example, with (left) or without (right) central hub nodes. The nodes are also differentiated by scales of network access, distinguishing nodes with global access (hub nodes) from local nodes.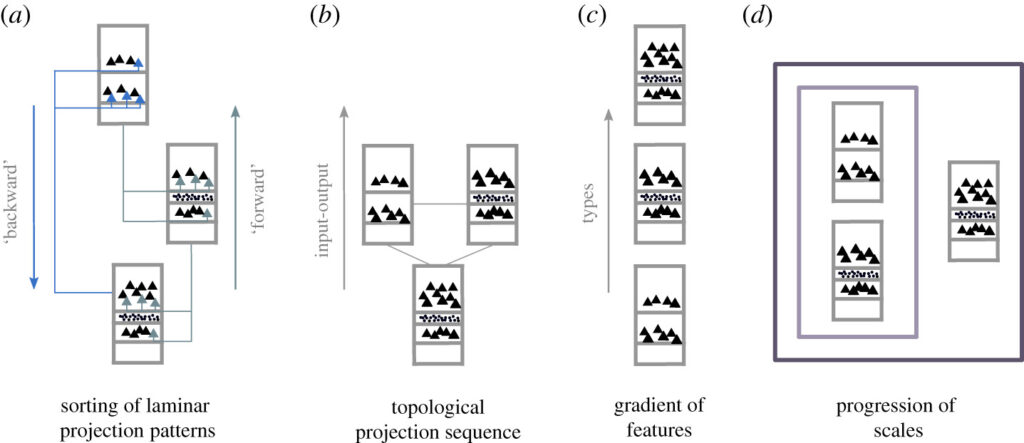 Figure 8. Overview of different concepts of 'hierarchy' in cortical brain networks as reviewed in the present paper. Depending on the chosen 'hierarchy' concept, the arrangement of the areas may vary substantially, also leading to different expectations of their functional properties. This overview is not exhaustive, and further notions of 'hierarchy' may be identified in the literature. (a) Sorting of areas by their 'forward' and 'backward' projections as classified from the laminar patterns of projection origins and terminations. (b) Arrangement of areas by the topological sequence of their connections, according to shortest paths from inputs at the bottom to outputs on the top. (c) Sorting of areas by feature gradients, for instance of cortical types or cellular density increasing from bottom to top. (d) Arrangement of areas by a progression of scales. Smaller neural systems are encapsulated in larger ones. For instance, laminar compartments are contained in cortical areas, which are in turn grouped into increasingly larger systems, such as the ventral and dorsal 'streams' of the primate visual system [73], by the arrangement of their connections and their functional properties. (Online version in colour.)
Conclusion
Ultimately, all the different aspects of 'hierarchy' are integrated through the embedding of connections in the spatial and topological architecture of the brain [30,72], where they underlie multiple interwoven structural and functional features that give rise to the intricate activity patterns and functions of the nervous system.
最終的には、「階層」のすべての異なる側面は、脳の空間的・トポロジカルなアーキテクチャーに接続が埋め込まれることで統合され、それらが神経系の複雑な活動パターンと機能を生み出す複数の織り込まれた構造的・機能的特徴の基礎となっているのである。